Flixxo is a new crypto currency, and an app for smartphones, tablets and desktops. It's similar to YouTube, except its decentralized and runs on BitTorrent, allowing them to save millions of dollars in bandwidth and storage fees. Flixxo wants to get YouTube community to jump ship to their platform. When asked how on earth can anyone compete with YouTube, CEO Adrian Garelik explains, "the only way to beat them is distributing, in Flixxo every user turns into a distributor, so after watching a video they can decide to keep the video on their computer, and lend their bandwidth/storage space to Flixxo. And for doing that they get rewarded in Flixxo."
He goes on: "The author of the content gets to decide how many tokens he's going to distribute to the viewers/storers of the content." As more and more people come to Flixxo, the network grows larger and more stable.

Flixxo's platform uses a 4 player economy designed to incentivize all players. The token plays a key role as its the only token allowed in the system. Let me break down how this works:
User/viewer: Can earn Flixx by watching advertisements (similar to Basic Attention Token) and also by lending their bandwidth/storage to the platform. Users pay creators Flixx to view their content.
Creators: Earn Flixx from viewers, and directly from advertisers. Creators can choose how much of their Flixx they want to give to users who store and distribute their content.
Advertisers: Must buy flixx from either the exchanges or directly from the creators. They can work out whatever private deal they want, as well as use Flixxo's algorithms to target the minds they choose.
Team Flixxo: These guys take 10% of the advertiser money. They use Flixxo stores to incentivize new creators/viewers to the platform. They also are responsible for making sure no illegal content is put out.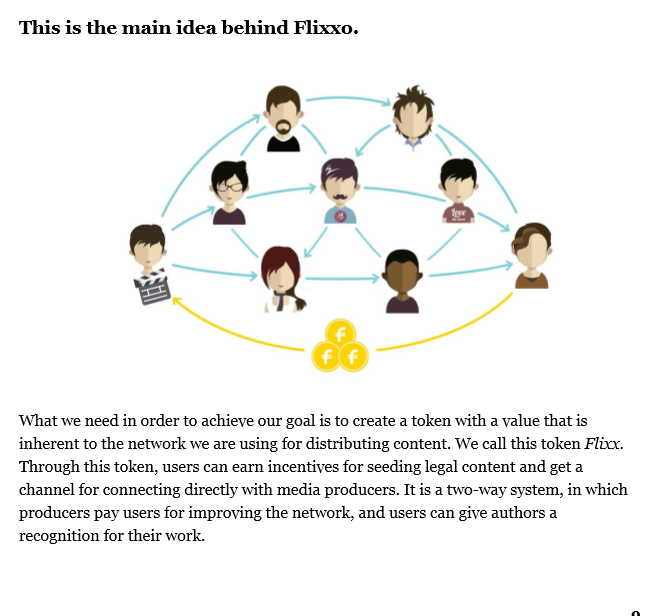 The Token
There will be 900 million total supply. The price: 1 eth = 4000 Flixx + bonus. This means it costs about .07 per token. On the surface this looks like a disaster, .07 per token is way too high… However, this situation is different. Only 200 million of the 900 will be sold to the public, so we take the price of .07 and multiply it by 200 million, that gives us a total market cap of just 14 million. 14 million is tiny! This means the token price can multiply over 3x before flixxo even enters the top 100 on coinmarketcap.
Distribution of token
Out of 900 million total tokens, 200m will go for the public token sale, 100m for the Flixxo team, 100m for advisors/bounties/etc, and 500m for their 10 year incentive program.
Take notice of the 500 million tokens being held for their 10 year incentive program. I did work and got into their telegram group to ask them about this. My concern was if they were going to use those 500m tokens to become the middle man between advertisers and content creators. They assured me that the 500m was for mass marketing/incentivizing new users and creators to Flixxo. I asked specifically if Flixxo will ever sell tokens to advertisers? They said "no". This is beautiful because it means advertisers will have to buy tokens from content creators or exchanges, naturally driving the price of the token up.
The Team
This is one of the strongest teams I have come across in my research. Here's 4 members that stood out:
Adrian Garelik CEO was the cofounder of RSK Labs (rootstock) . ROOTSTOCK!
Federico Abad UI guy: created PopCorn Time (PopCorn Time is a bittorrent streaming platform with over 60 million users!) its a beautiful platform he created, and Flixxo is the same style.
Pablo Carbajo: worked for IBM and Toshiba.
Michael Terpin: Legendary PR guy, and founder of Transform Group, serves as an advisor to the project.
Verdict
YouTube has had it far too easy, for way too long. They sell their user data to advertisers, while barely paying content creators for bringing viewers to their platform. They stick themselves in between advertisers and creators, stealing all the moneys. They also censor and punish certain creators based on their political views (yikes!). It's for these reasons I truly believe YouTube will be Blockbuster Video'd in the future. Will it be Flixxo that takes them down? I don't know, I do know they have the ability to steal a good sized chunk of YouTube's customers if they can find a way to motivate people to leave. Money is the greatest motivator. Right now a viewer on YouTube gets paid nothing, and shows their love for the author with "likes" . On flixxo they get paid tokens, and show their love to the author with tokens, who in turn repays the viewers/distributers with tokens. The token is the backbone. It's a beautiful concept. Also, they recently partnered with AdEx (#90 on coinmarketcap, and the leading blockchain advertising token (along with BAT, whos main concept is used by Flixxo)
Risks
There has to be some kind of legal red tape the team is going to have to remove. Yeah it's decentralized, and once the network is up and running it can't be takin down. But what if "the man" came and took down their offices, and fined them into oblivion ? That would certainly be the end of Flixxo. This is highly unlikely, just saying.
Competition is everywhere. I see a site like Twitch as being their closest competitor. The 20 and under crowd has set up their base over there. Streamers receive tips for broadcasting themselves playing video games and talking. It will be really hard to get them to leave. Humans are creatures of habit and hive mindedness. Another close competitor is LBRY. when asked how does Flixxo compare to library credits. CEO Adrain said, "One main thing is LBRY requires viewers to first purchase LBRY credits. Flixxo lets viewers on their app for free, and pays them FLX to watch advertisements. Another thing is their marketing. Flixxo seems to have world class pr and marketing, while LBRY does not"
Growth Potential
This is no flash in the pan ICO. The team of studs are clearly in it for the long term. The token allocation was very well thought out, and their strategies are designed for over 10 years down the road
Directly from whitepaper:
"With? ?1? ?billion? ?users,? ?YouTube? ?is? ?the? ?most? ?popular? ?platform? ?in? ?which? ?the? ?advertisement model? ?works.? ?Taking? ?the? ?biggest? ?piece? ?of? ?the? ?market? ?share,? ?their? ?revenues? ?on? ?ads? ?are about $6B a year. Duplicating this model, with 1 million users, Flixxo ?s net earnings on a? ?most? ?effective? ?model? ?(both? ?for? ?advertisers? ?and? ?producers)? ?would? ?be? ?around? ?$10M? ?a year.? ?By? ?reaching? ?100? ?million? ?users? ?(like? ?Netflix? ?or? ?Popcorn? ?Time),? ?the? ?net? ?ad? ?revenues for? ?Flixxo? ?would? ?be? ?$1B? ?a? ?year.
Disposition
If you are a video streaming content creator then this is the ICO for you. Buy up as many tokens as you can, because in the future advertisers will pay you directly, over 7x more than YouTube, for your tokens
Short term outlook is hazy- The community so far is decent, but lacking hype. This project may start out slow in terms of token price.
Long term outlook is very bullish. This team has already achieved greatness in the past with Rootstock and Popcorn Time. They know what it takes to succeed. They already have an alpha version of their platform out for testing. Their marketing strategy is tremendous. It may however, take a couple years before they go mainstream. Patience will pay with this one.overall score 7.5 of 10
Investment Details
Symbol: Flixx
Presale: ended
Opening sale: October 24 (20%bonus nov 1-7, 15% nov 8-15, 10% nov 16-24)
End Date: November 24
Total number tokens: 900 million
Payments: ETH
Platform: er20 token, but they have their own platform, built on bittorrent, using the Bancor Protocol